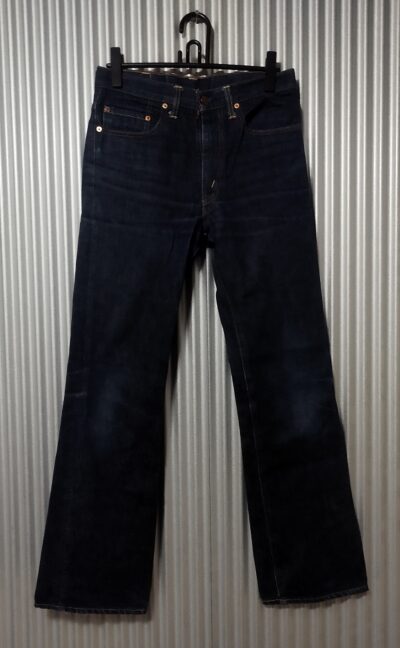 LEVI'S VINTAGE CLOTHING
90s Levi's 517.
1971 model reprint.
"Saddle man"
Made in USA.
Big E.
we will introduce Levi's vintage clothing, Levi's 517, manufactured in 1999.
517 in 1971, it is a reprints of the popular name Saddleman.
It's pretty elaborate content.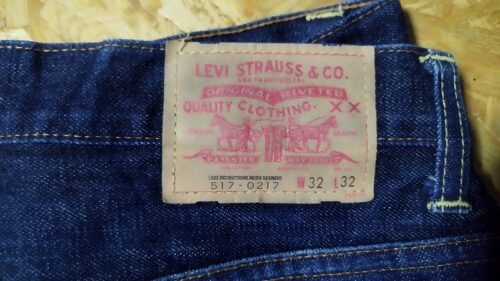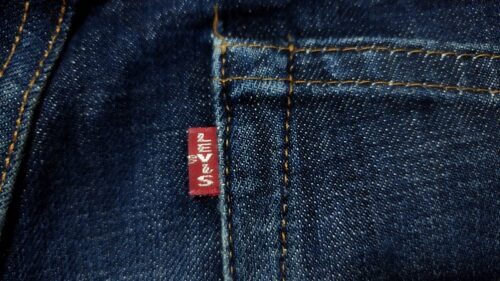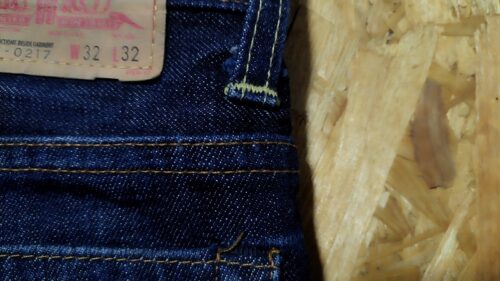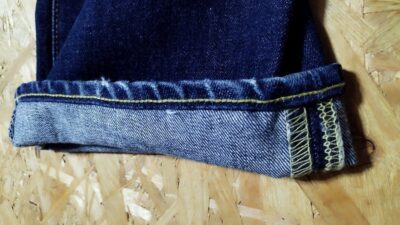 Denim is Cone Mills pre-shrank denim.
Red Tab is Big E.
The 517 Red Tab changed to Big E until February 1971 and to Small e from March.
The 517 is said to have started in 1971, so it is a reprints of a model that was made for only a short period of time.
The thread is Two-color stitching of yellow and orange threads
Others Copper button, Paper label, navy blue bar attack on back pocket, Side split out seam, etc.
It has vintage details.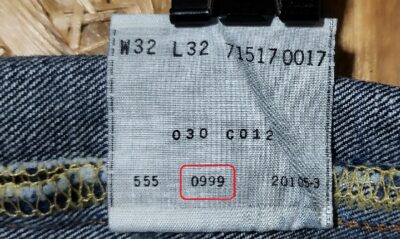 This reprints Saddleman jeans was manufactured in September 1990.
It can be seen from the notation of the inner display tag.
555 is the factory number, and 0999 next to it is the manufacturing date.
09 is the month and 99 is the year.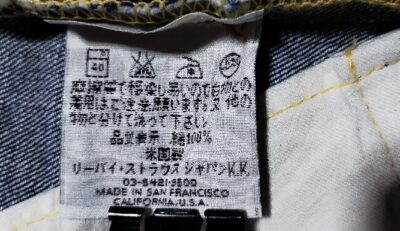 The factory number "555" is the Valencia factory
The Valencia factory is closing in 2017.
The Valencia factory has a long history of manufacturing Levi's, and Levi's made by the Valencia factory is popular in Japan.
The display tag on the inside is not "Made in USA" but "Made in SAN FRANCISCO CALIFORNIA, U.S.A" where the Valencia factory is located.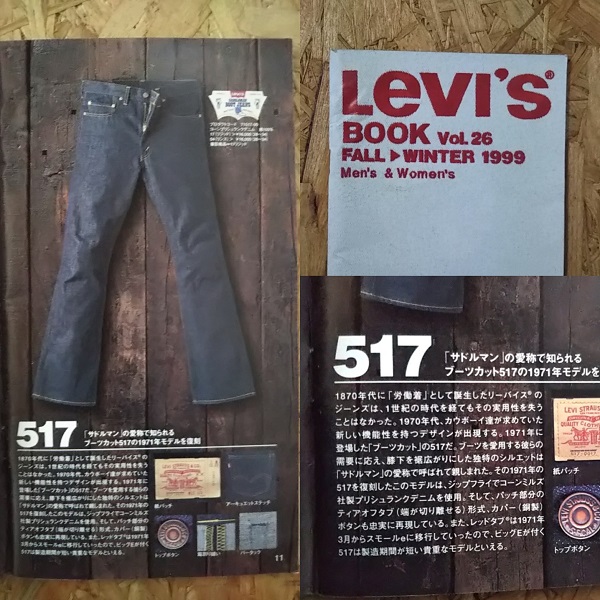 The Levi's Book is from autumn to winter 1999.
Around 1999, there were more reprints in Japan than they are now.
Of course, the 501 reprint is popular, but 517 etc. were also reprinted.
In 2020, the small e 517 from the mid-70s was on sale from Levi's Vintage Clothing, so it seems that it will be reprinted from time to time.
Compared to 501, the number of fans is small, but it is a model that always represents Levi's, which has a certain number.
Cone Mills denim seems to fade well.
The Cone Mills White Oak factory closed in 2017.
Due to the closure, the Cone Mills denim factory is no longer in the United States.
Korn Denim has denim factories in Mexico and China, but none of their denim is made in the USA.
Levi's was sold as White Oak Cone Mills, but it's over with stock only.
This 517 is made by Cone Mills and made in the USA, so I think it's white oak denim.
In the future, the day will come when scarcity value will come out and it will be traded at high prices.