"CANTON" is the first Japanese jeans brand.
The company that imported denim and made the first Japanese jeans is Oishi Trading.
Not only denim but also buttons and rivets were imported.
At first, it was produced in its own small factory, but later the company that was in charge of sewing was "Maruo clothing" and now "BIG JOHN".
It was in the 1960s.
Sponsored Links
In 1963, the year before the Tokyo Olympics, Japan became liberalized in trade.
Until then, the only jeans in Japan were second-hand jeans.
However, due to trade liberalization, denim was imported from the USA.
That is USA Canton denim.
It is the brand name as it is.
When you turn the jeans over, the denim is stamped with "CANTON Made in USA".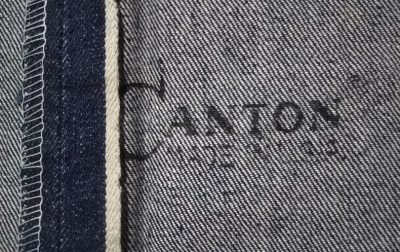 "CANTON", which was the first Japanese jeans, will disappear in 5 years.
There are two reasons.
One is that the Japanese at that time were not accustomed to low denim.
Until then, second-hand jeans were already in circulation in Japan.
This is because a large number of jeans in second-hand clothing released by the US Army (GHQ) after World War II were on the market.
low denim is hard at first and shrinks and cannot be worn as it is purchased and worn, or the length becomes too short.
You can see that it is not popular.
The other is the brand name.
Having quarreled with Canton USA, who insisted on paying the license fee under the brand name.
Sponsored Links
After that, the brand name is from "CANTON" to "BIG STONE".
"BIG STONE" comes from the company name Oishi Trading.
Oishi Trading is "大石貿易" in Japanese.
Oishi (大石) is the second name
"大 "meaning is "BIG"
"石"meaning is "STONE"
貿易 = trade
In other words, "BIG STONE"
"BIG STONE" started around 1970, but it also has only about 5 years and went bankrupt around 1975.
It seems that Oishi Trading wanted to import "Cone Mills" denim first.
However, it is said that the discussion did not go well and he used "Canton denim".
It's understandable that Oishi Trading wanted to use Cone Mills denim.
Jeans are still centered around Levi's.
It's easy to imagine that you wanted to use the same denim as the Levi's.
"BIG STONE" was made using Cone Mills denim.
Sponsored Links